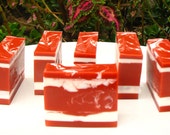 Made in Hawaii with the breath of Aloha!
**Featured in this years OSCAR CELEBRITY SWAG BAGS**
Due to the handmade nature of soap making, each bar is unique and imperfectly beautiful. This listing is for 1 bar. The bars are approximately 4oz in weight and are made from glycerin and goat's milk. The Awa Puhi flower is very special here in Hawaii. Hawaiian natives have used the fragrant juice of the Awapuhi Ginger plant to moisturize skin and hair for centuries. The scent is that of a crisp flower, but isn't overly floral. The beautiful greenery on the Hilo side of the big island is what comes to mind when I smell Awa Puhi. Fresh, fragrant rainforest.
This soap is colored with oxides. These are earth derived colorants.
Handmade soap is so luxurious to use. The lather is amazing, the scent is fresh and clean, and the best part is that you know what products are being used on your body.
Mahalo and Hang loose ;)
Click Here to Visit My Etsy Shop!