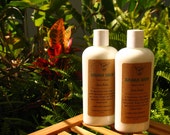 Introducing Shaka Skin, created by Shaka Soap
This lotion is just what your skin needs to feel hydrated without feeling greasy. A luxurious, rich cream with Hawaiian wild ginger, not overly floral, but fresh and clean with a hint of island spice.
Crafted with Hawaiian Spring Water, Shea Butter or Mango Butter, Sweet Almond Oil and/or Avocado Oil, Olive Oil, Vegetable derived Emulsifying Wax, Palm Oil derived Stearic Acid, Phenonip (a formaldehyde-free preservative), and fragrance oil.
We only use ingredients necessary to made an amazing lotion. No artificial colors are added. Some of our lotions may change color on their own due to the natural occuring vanillin in the fragrance oils. This has no effect on the product, only the appearance.
Click Here to Visit My Etsy Shop!